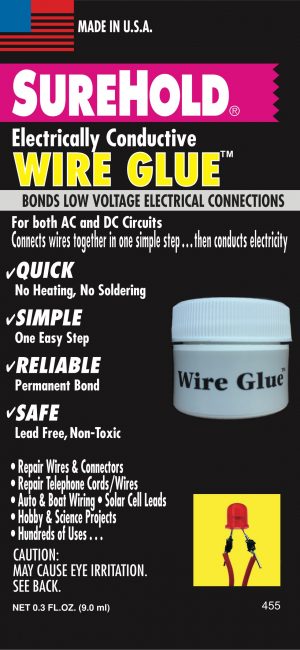 Electrically Conductive
Wire Glue
Wire Glue is an electrically conductive, water-based adhesive for use as a replacement for soldering in all types of low voltage, low current electrical connections both indoors and outdoors. Wire Glue features durability and weather protection from the elements; is chemical and oil resistant.
For both AC and DC Circuits.
Great for:
Repairing wires and connections
Repairing telephone and TV cords & wires
Auto and boat wiring
Solar Cell Leads
Hobby and science projects
DIY home repairs
And more!
.3 fl oz  |  Part No. 455
Interested in purchasing this item?
Give us an idea of what you need and we'll contact you with pricing and more info.
(Psst! If you'd like to private label any of the products listed here, click here instead to message a sales person and we'll get your own line up and running!)