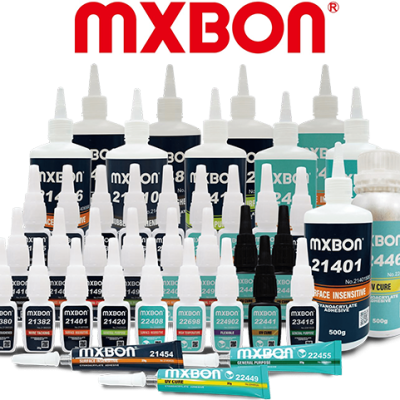 MXBON Industrial Strength Cyanoacrylate Adhesive
Cyanoacrylate Adhesive products are specially developed for full ranges of comprehensive bonding solutions. Cartell Chemical dedicates itself in providing the highest quality, most competitive, and most reliable industrial solutions in design, manufacturing and the repair phase. MXBON products are widely implemented into industries such as electronics, medical devices, railway transportation, naval, architecture, sports equipment, etc.
Cyanoacrylate Adhesives can bond materials such as rubber, wood, metal, leather, ceramic materials, acidic or contaminated surfaces, and low surface energy plastic materials.
Cyanoacrylate Adhesives are a great tool to:
– Optimize product design
– Improve assembly efficiency
– Lower production cost
Interested in purchasing this item?
Give us an idea of what you need and we'll contact you with pricing and more info.
(Psst! If you'd like to private label any of the products listed here, click here instead to message a sales person and we'll get your own line up and running!)