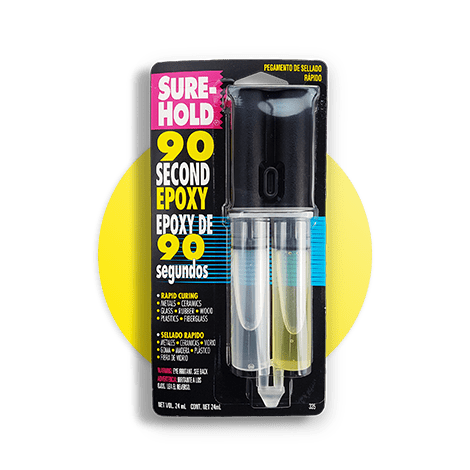 This all-purpose, rapid-curing, two-part epoxy is for projects that require instant adhesion.
Water resistant
Will not shrink, fills gaps and is nearly colorless
Allows 90 seconds for adjusting parts
Can be sanded and painted once epoxy is fully cured
Works on most hard surfaces.
Use on Metal, Ceramic, Glass, Rubber, Wood, Plastics, Fiberglass
Use to repair furniture, appliances, toys, models, jewelry, and for filling gaps
Use for Hardware, Automotive, Craft & Hobby Applications
24ml syringe automatically dispenses equal portions of epoxy hardener and resin.
To use, push down on the plunger to release the hardener and resin, then thoroughly mix the epoxy.
*Retailers currently carrying our products may have a limited selection. Please contact your local retailer for product availability.