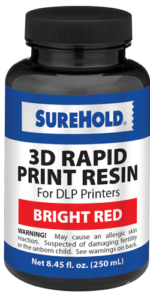 The possibilities are virtually endless…
SureHold's Sound of Color premium resins are highly brilliant colors made with premium grade, special effect pigments to produce a vibrant look to your polymer 3D printed parts.
Now available in metallic shades: Brilliant Gold, Brilliant Silver, and Brilliant Mother of Pearl!
3D Rapid Print Resins
For DLP Printers
Resins are available in standard metallic finishes and unique colors. Each one is composed of uniquely formulated nano-particles that provide an enhanced metallic effect.
Their gloss coating makes them resistant towards chips and scratches.
They provide a cost effected replacement for plated or metal parts.
All of SureHold's printing resins are Biocompatible and meet ISO-10993 and USP Class IV Certification.
Formulated for use in 365, 385, and 405 printers.
Contact us for a complete list of colors and compatible printer specifications.
UV Curing Lacquer
Low Odor Coating
SureHold's coatings can be easily dispensed without surface defects such as air bubbles or voids. Our hard coatings have good wetting characteristics, excellent strength, compatibility with a wide range of different materials/components, low out-gassing, low shrinkage, and are engineered to produce coverage over sharp edges and contours.
Good flow * Low stress * Non-yellowing
Can be applied by brushing, dipping, spraying, spin coating, flow coating.
Interested in purchasing this item?
Give us an idea of what you need and we'll contact you with pricing and more info.
(Psst! If you'd like to private label any of the products listed here, click here instead to message a sales person and we'll get your own line up and running!)