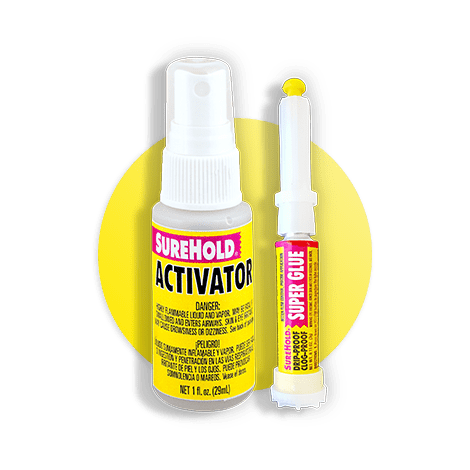 Cyanoacrylate Adhesive & Activator Kit
Includes our Patented Drip-Proof, Clog-Proof Super Glue. Activator speeds the cure-time of high viscosity cyanoacrylate adhesives.
---
Can be used to improve the gap-filling abilities of the cyanoacrylate adhesive.
Aids CA glues in bonding difficult to bond substrates
Apply one of two ways:
Apply CA glue to parts to be bonded or repaired. Spray Activator over all exposed CA glue; or
For surface activation: Clean surfaces thoroughly. Spray Activator to parts to be bonded or repaired and allow to evaporate. When dry, immediately apply CA glue and assemble parts.
Part No. 23010
Activator – 1 fl. oz. (29mL)
CA Super Glue – 0.11 oz. (3g)
*Retailers currently carrying our products may have a limited selection. Please contact your local retailer for product availability.